Estimated revenue of Vietnam garment industry continues to grow in 2014 despite the current economic situation of people with little harder
The group had expected increase in revenues is the major corporations such as Vietnam PhD, VINATEX, unfortunately Thang Loi, Vietnam Thang Garment, Garment Winter Spring ........
But investors are mainly China, Korea, Taiwan still very strong and stable.
Consumption in Vietnam market in 2014 is quite good but rather competition between investors and businesses, so the price seems to be reduced and quality increased.
In general, the market is still very strong in Vietnam but also more difficult and the fierce competition between enterprises now Vietnam Vietnam Vietnam and businesses with foreign enterprises.
Imports of Vietnam garment fabric increasing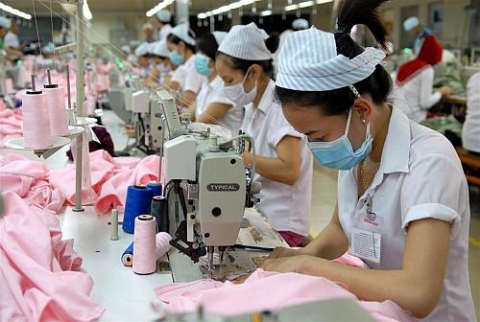 According Vinanet :
"May 9/2013 imported apparel fabrics of all kinds of water worth 661.86 million, up 19.47% compared with September last year; the total imports of this group first 9 months of 2013 to nearly 6.05 billion, accounting for 6.28% of total merchandise imports of the country, up 19.16% compared with the same period in 2012 .
China remains the main market for apparel fabrics for Vietnam, September own fabric imported from the market to 330.3 million; the total turnover of 9 months up to 2.78 billion US dollars, accounting for 45.96% of total imports in this group, an increase of 27.74% over the same period last year.
Korean market is the 2nd largest fabric suppliers in Vietnam, reaching 1.23 billion in 9 months, accounting for 20.29%, an increase of 19.2% over the same period.
Next to the market of over $ 100 million in the nine months as Taiwan 898.07 million, accounting for 14.85%, an increase of 11.87%; Japan 398.02 million, accounting for 6.58%, down 1.67%; Hong Kong 278.47 million, accounting for 4.61%, an increase of 11.72%; Thailand 152.75 million, accounting for 2.53%, an increase of 29.64% over the same period.
Overall, imports of fabric from the majority of the market has increased over the same period, while turnover increased 50% in the market such as Belgium (+ 56.89%), Turkey (+ 54.4%), Singapore (+ 51.06%), the Philippines (+ 50.47%). "